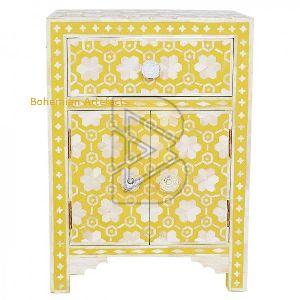 Bone inlay furniture carries the Egyptian decoration types. To more about it, let's know first what actually bone inlay is.
History:
The basic technique of bone inlay involves fixing of hand-carved and intricate pieces of mother of pearl or camel bone into a frame (generally made of wood). This wooden frame remains filled with colourful resins. This technique of crafting has its origin in Egypt. The Egyptians used to do this technique almost 3000 years back to decorate wooden materials, which is known as intarsia crafting technique. Various designs of intarsia are found in different countries including Egypt, Persia, Japan, China, Europe, and India. During the 16th century, artisan crafts were affordable among the wealthy only. But today, with the advancement of technology, bone inlay furniture can be prepared with much less effort and thus it came within the reach of the middle-class people too. Except for the fact, several antique pieces of bone inlay and artisan furniture can cost billions at auction!
Get inspirations after buying bone inlay furniture…
Though bone inlay furniture has its root in the eclectic-bohemian décor but who do not have a boho taste, can get it merged with Ornate, which is another form of inlaid furniture which shows the décor sense of the Eastern world. More monochrome or neutral pieces can be used to achieve a streamlined and clean look. Anyone having a bone inlay bedside table at his bedroom can surely bring a different and unique look at his space.
Benefits of having an inlaid bedside table:
Comfort and relaxation are two pillars when people think about decorating their home. In addition to that, for bedroom, two more additional requirements are comfortable nights and complete relaxation. A good quality bed and a comfortable and soft mattress with a handy bedside table are the key to boost functionalities and aesthetics.
Benefits of using bed side tables:
A beautiful bedside table nearby the bed is a perfect place to put a lamp, which can be useful for reading books while lying on bed or when moving around the room. It is just a perfect place for keeping a glass of water, mobile phone, etc. Here are some other benefits including
• Put the laptop on the table after a late night work
• Alarm clock or a family photo frame can be kept here. Both of them are useful for the next morning!
A bone inlay bedside table can simply offer a nice sense of decoration for creating a cozy bedroom atmosphere. Contact now any reputed manufacture company of bone inlay bedside tables to get your desired piece now!
This entry was posted on March, 04, 2020 at 14 : 28 pm and is filed under Bone Inlay Furniture. You can follow any responses to this entry through the RSS 2.0 feed. You can leave a response from your own site.