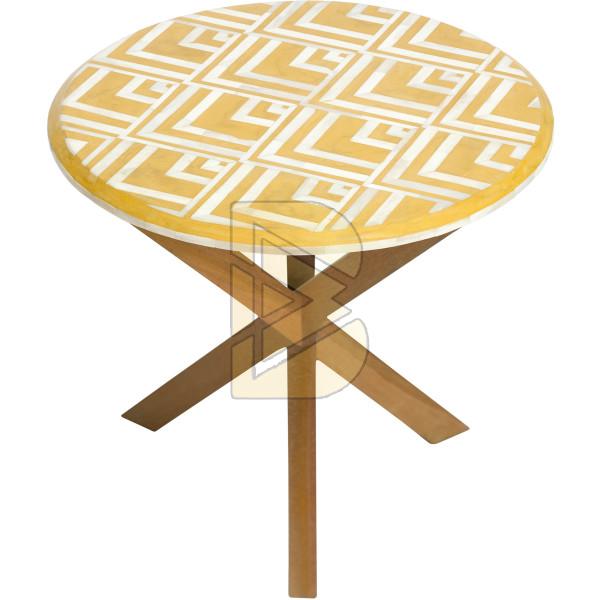 The bone inlay products basically the decorative and daily uses items are crafted by the traditional business house. The bone inlay quercus coffee tables have its showroom & factories are well-established & well equipped with a good team. This captivating art is exceptional in India.
Nowadays different types of furniture available in the market including bone inlay furniture, industrial furniture, reclaimed wood furniture and white metal furniture. Many manufacturers provide a wide variety of Bone Inlay Furniture from bed side cabinet, chest of drawer, coffee table, console table, gift items, mirror frame, serving tray, stool and many more online.
Products are offered in varieties of woods, polish, painting, metal fittings, carving and handmade hardware's.

Historical facts about bone inlay products
• The art of bone inlay crafting is a custom that has been handed over through generations.
• It is one of the famous traditional craft practiced in Udaipur, Jodhpur, and Jaipur regions of Rajasthan in India.
• The art of bone inlay has its roots in the majestic palaces of Rajasthan.
• It is purely handmade and crafted to the highest specifications.
• The royal families used to place these creative pieces such as bone inlay boxes, cabinets, chests, tables, chairs and even mirrors in their palaces.
• The skillfully handcrafted bone inlay boxes are exported around the world by bone inlay boxes supplier in Udaipur.
• Some intricate patterns and fanciful styles are available in all range.

What is this technique all about?
Inlay is the practice of inserting bits of contrasting material into depressions made on a base object. Talking about bone inlay, the castoff bones of camels that are passed away due to natural causes are used. Therefore, anyone can enjoy using these fine art pieces without any guilt of killing any animal. No one is harmed.

How bone inlay tables are made?
The production of bone inlay art piece is a three step process. It takes up to a month to create.
• First, the bone wastes of camel bones are shaped carefully.
• Secondly, these convoluted shapes are affixed onto timber frame in a meticulous pattern.
• Thirdly, resin is filled around the bone shapes to create and craft the background.
The bone pieces are offset by outstanding color of the resin. This helps create an exotic looking oriental piece of art.
Beauty undefined - Great gift idea
The finest part of bone inlay furniture, these are visually spectacular with beautiful and unique patterns. No two pieces are same, portrays its uniqueness. One cannot deny the craftsmanship involved so can offer as a unique gift to someone special.
Varieties available
These days, craftsmen create a range of stunning piece that are functional, stylish and long-lasting. These are made available in leading bone inlay quercus coffee tables wholesale by suppliers. They offer their range in subdued lighter colors like white or ivory bone inlay. There are endless possibilities of beautiful designs.
If you contact leading suppliers then you can be assure of the originality. They have craftsmen who craft with lot of care and brilliance.
Other feature Bone Inlay Quercus Coffee Tables
• Provide all varieties of furniture
• Utilize best quality raw materials
• Assure long service life of products
• Reasonable pricing for genuine products