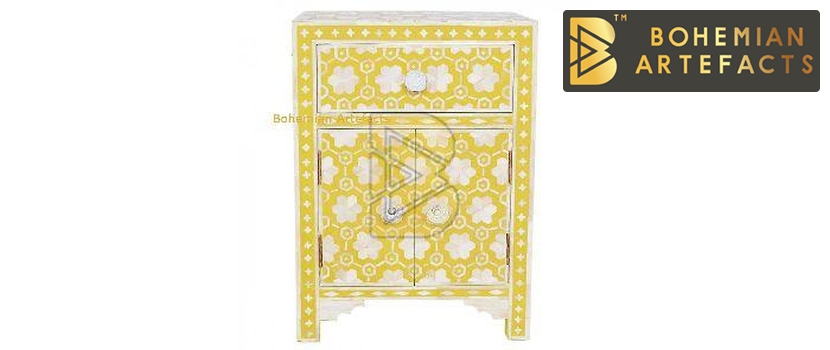 With so many designs, creative ideas and artistic patterns coming into existences, very few know about authentic and ancient pattern making. Engineered woods and artificial products have captured the trend but ancient artistry will have its grasp. With proper attention and promotion, the age-old ideas of furniture making will get much-needed attention. Bone Inlay is one such technique that has been used in decorative furniture for ages. Furniture like bone inlay bedside tables is a great addition to your home decor as it will up the creative game. The entire look and vibe of the place will change making it stand out among everything else.


What is Bone Inlay?
Bone Inlay is an ancient technique used for decorative furniture where hand-carved delicate bone pieces are embedded on the surface of any object. In terms of furniture, it can be embedded in wood that acts as the base metal. The material that is used as bone inlay can be the mother of pearl or bones that are procured from animals that died a natural death. Some use metals, ivory, wood, etc as the embedding material. Bone Inlay bedside tables are gaining popularity in today's market and becoming a new trend. Many businesses are adding them to their catalogue so that their clients and customers can check them and add them to their collection of home decor.


Why Bone Inlay furniture is different?
The technique helps in creating mesmerizing geometric and floral patterns that will just take your breath away. With different colour combinations, you can get some amazing masterpieces making their way to your house, shop, showroom or commercial place. Since the bones that are used are generally of camels that died naturally, you can the best bone inlay bedside tables in Udaipur. With the right knowledge about where to find them, you can buy bone inlay bedside tables at the best price there. Colour schemes to match all kind of decor and interiors, you will just grab them. Just make sure to have an eye for the detail and a work of art will be yours to have.


Enhance your business with bone inlay furniture
If you have a business of decor and interior products, then adding bone inlay products will up your level in the market. These designs and products are not available easily in the market and are simply amazing to have in your collection. Connecting with reputed bone inlay bedside tables manufacture will help you to get some amazing products at a great deal. They will be able to provide you with a constant supply of products that are authentic and handmade with every detail being designed dedicatedly. You will also be able to buy bone inlay bedside tables at best price that will leave a good margin to earn a profit.


Increase your sales and earn profit with beautiful bone inlay furniture
You can find unique bone inlay bedside tables in Udaipur as it is a place populated with camels and camel bones are easily available. Apart from that, art is in the air and you will find craftsmen doing this work generation after generation. You can have your craftsmen who can do the work in-house or you can make a deal with a popular bone inlay bedside tables manufacturer who can provide you constant supply for the demands and orders your clients' places. Also, you should have a check about the kind of product they offer and the authenticity of the work. It will ensure you value for money and loyal customers who will develop a relationship with your store whenever it will come to home decor items.


It is now time to get back to the roots and add that traditional touch to your space and make it more attractive and elegant to look at. It will stand out as an element for attention or highlight a place that is spread over a huge carpet area. All eyes will be on the furniture and you will be the centre of attention.