How To Style Your Bedside Table To Make It Look Aesthetic?
Posted by Admin on March, 11, 2020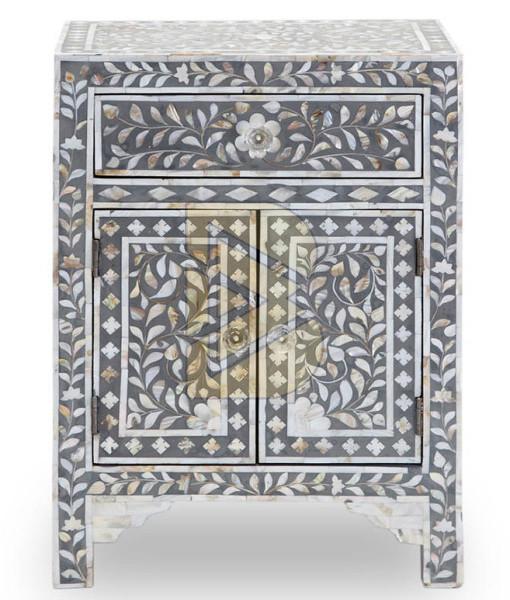 For a great bedside table idea, you need a lite bit of planning and lots and lots of inspiration. Your bedside can be a lot more than keeping your unread books, phone, alarm etc. With some styling tips, you can turn your normal bedside table into something that depicts your real aesthetics. Try out these tips and change or makeover your bedside table today.

Place A Table Lamp
If you don't have a hanging pendant above or any wall light near your bed, a table lamp beside your bed becomes an essential functional. It is also a simple way to add some design to your bedside table. Therefore choose a lamp that matches your interiors and which doesn't take much space. When you style your bedside table, place it before something else and then position the rest of the thing around it. This way, it acts as an anchoring point.

Use Pretty Plants and flower
Whether you are placing just a stem or a whole bunch of fresh flowers in your bedroom, the look of your bedside table enhances to a great extent. For permanent additions, it is best to choose delicate flowers and plants like fern or orchids. You can also go for hardy sculptural succulent like a string of pearl on the Bone inlay bedside table.

Place Beautiful Art Piece That Can Make You Smile
Whether it is a postcard that came from across the country or a birthday card that someone special sent you on your birthday, a photograph, or a piece of art that looks amazing and creative. Place it on your beside the table and enhance the look of your bedroom. It all about capturing special moments, love, and passion and placing somewhere where one can see it daily and start their day with happiness and joy.

Why Not Put Some Decorative Items?
You can put those items that you can collect all this while travelling from one place to another. This is a great way to add some personality inside your bedroom. But it is always better to go for minimum and avoid any clutter and mess. Make it look simple, beautiful and elegant.

A Book Lovers Table
If books are the feature that is always present on your table, then you make them star to steal the show. You can simply pile up some amazing books one after another and create great interest and height on your table. Place a ring dish and a flower in the vase to utilize the space very well and to make it look gorgeous and amazing.

Go For Organic Products
There are some people who don't like flowers and plants. If you are one among then who want to style their bedside table with some organic product except plants and flowers, then one should go for shells, corals, timber or a piece of driftwood.
Bedside tables are necessary and that is why the bone inlay beside table manufacturers produce a quality product for your use.
This entry was posted on March, 11, 2020 at 10 : 16 am and is filed under Bone Inlay Furniture. You can follow any responses to this entry through the RSS 2.0 feed. You can leave a response from your own site.