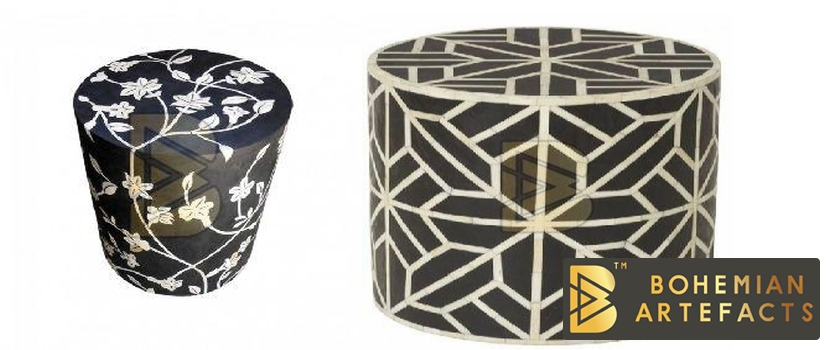 The bone inlay furniture is the most coveted piece of artwork, designed by the skilled craftsmen. They are an unbelievably-beautiful décor accent for all types of room. Here you shall learn all about the handcrafted furnishings- how they are made and why are deserving of some space in your house.
Bone Inlay Furniture
Bone inlay is an age-old decorative technique that comprises of hand-carved bone pieces that are distinguished for its intricately embedding on the surface of objects. The final result leads to a stunning pattern-which varies between geometric and floral-of myriad materials and colors that add surface brilliance to any kind of room.


The bone inlay technique origins might be murky, but has successfully transcended civilizations, centuries, and countries. And you can find its evidence in the embellished furniture of age-old Egypt and, 18th century Japan's lacquerware and Indian' Mughal Empire's erected architecture.

How Does Bone Inlay Work?
The process of bone inlaying starts with patterns and designs, which is carved out from materials. The material can be either polished bone from camels that is cruelty-free or mother of pearl. However, the materials can also be done using ivory, marble, metal, and wood. Thereafter impressions are made on a base object to blend with the designs and patterns so that the delicate bone pieces can be seamlessly inserted onto the surface. The carved pieces are then encircled by contrasting resin for a perfectly smooth finish.
How is the Handcrafting on Bone Inlay Done?
The entire process of handcrafting is done by artisans who specialize in techniques that have been passed down on them through generations. Despite the inlay pattern and size, the bone inlay furnishings usually take about three weeks to produce and calls for excellent levels of expertise, artistry, neatness, and patience.
What is The Need for Adding Bone Inlay Furniture to Your House?
Bone inlay furniture is characterized by eye-catching and ornate features which makes itself a jaw-dropping home décor accent. The bone inlay furniture has the power to knit the entire space together, adding a dose of excitement with its exclusive character and tapestry of patterns, textures, and colors. And while its style might have roots from the ancient, the furnishings dominates in the present contemporary houses as well, and needless to say, this art form is here to stay and rule for a while. Bone inlay furnishings are always known to evoke sophistication and class in any of your rooms.
Why is Bone Inlay Furniture Trending?
The bone inlay furniture is basically popular for its intricate details and because of its luxe. No wonder, why they make the perfect interior accent in the present era. The bone inlay furniture has been in use for centuries and the exact techniques are still put to use to bring alive contemporary, intricate, and ornate statement indoor accents. While you might often come across bone inlay furniture in grand palaces and boutique hotels, they are also quite prevalent in all types of contemporary settings where it offers a pleasant personality, a world of difference, and an imperative link to a handcrafted and authenticity.
How to Buy Bone Inlay Furniture?
If you wish to get your hands on top-quality end tables, chest drawers, and mirrors then you can always contact the bone inlay drum-shaped end tables supplier in your area to learn more about them and purchase them at affordable prices. The renowned and ethical suppliers only deal with cruelty-free bone pieces of a camel. The bone inlay end tables are sourced from reliable vendors and are also available in various colors.
Ever since the ancient days, the bone inlay furniture is handcrafted and any kind of imperfections or flaws in it during the crafting process is celebrated as the symbol of a true artisan's work of art.