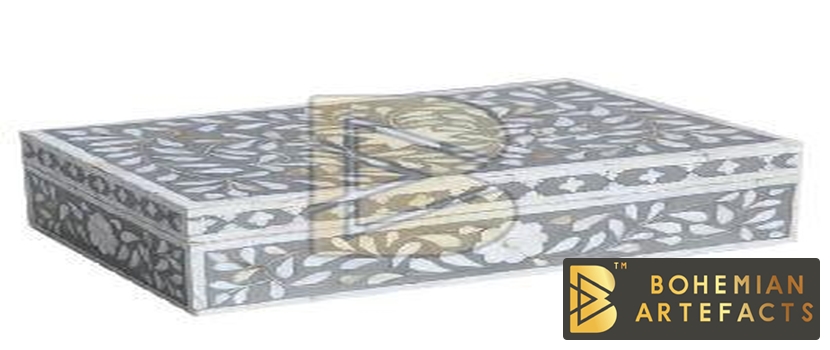 An ancient technique of decoration, which includes implanting delicate, hand-carved pieces of bone into the surface of an object, is known as Bone Inlay. Resultantly, a striking pattern-may be geometric or floral- arrives of contrasting colours and designs. The Bone Inlay products add splendour to any room. The technique of decoration originated in ancient Egypt. The architecture was erected during 18th century Japan and India's Mughal Empire.


The eternal art of bone inlay is a tradition that has been passed from generation to generation. This technique of art is now practiced in Udaipur, Jaipur, and Jodhpur in India. We, the Bone Inlay Boxes Supplier In Udaipur, manufacture bone inlay boxes at a well-equipped factory.


The art of bone inlay originated in India in the royal palaces of Rajasthan which were decorated by Maharajas with extravagant inlay furniture pieces. This fascinating art is unique to India. India also exports these handcrafted bone inlay boxes and furniture pieces to other countries. Bone Inlay boxes are known for their incredible style and intricate pattern.


A base object is taken and Inlay is the process of inserting pieces of contrasting colours and materials into the base object. Similarly, a bone inlay is a technique of inserting bone pieces of contrasting materials into the base object. Now, the question is the bones of which animals are used. Is the use of bones ethical?


Bone Inlay uses the discarded bones of camels that have died due to natural causes. So, its use is ethical. You can use bone inlay boxes and decorate your home with bone inlay furniture without feeling guilty because no animal is killed.


The Bone Inlay process takes three months to create bone inlay furniture and boxes. The production is a three-step process. Firstly, we shape the pieces of camel bones delicately. Secondly, these intricate shapes are inserted into a timber base object in a detailed pattern. Thirdly, to craft the background, fill resin around the bone shapes. The colour of the resin provides an exotic look to an oriental piece of furniture.


The best part of bone inlay boxes is that they are stunning with unique patterns and no two pieces are similar. You can't deny the craftsmanship involved because the bone inlay boxes are exquisite and extravagant.


Nowadays, craftsmen manufacture modern style of bone inlay keeping in mind the age-old tradition. Thus, craftsmen give a stunning look to bone inlay boxes that are functional, long-lasting, and stylish. Besides bone inlay boxes, bone inlay furniture that includes beds, almirahs, and tables, are also stylish and functional. These boxes are available in lighter colours and pastel shades. Mirrors, boxes, tables have interesting and beautiful designs. The bone inlay boxes will surely draw your attention because they are crafted with a lot of brilliance and care.


Bone Inlay boxes are used to keep small precious things within it. You may also keep within its golden jewellery. Thus bone inlay boxes are also called jewellery boxes.


Conclusion
Bone Inlay is now the hottest trend for home decoration. Bone inlay fetches a breath of fresh air refreshing your home. Bone Inlay boxes serve both purposes- these boxes are used as functional storage on the one hand and the other, used as decorative pieces. The use of bone inlay boxes shows a fascination for our traditional materials. Now, the design of bone inlay boxes is an amalgamation of new and old techniques of handicrafts.

We, Bone Inlay Boxes Supplier in Udaipur, are one of those pioneer companies that have pioneered the art of bone inlay technique. Our hard-working and talented team members manufacture bone inlay boxes and other bone inlay products at our factory. We deliver our products to any part of the globe safely.